Men's silver Louis XVI watch with steel strap Frosted Aramis - Silver 43MM


Only 1,000 of these watches were produced. Each piece is numbered on the back, making each LOUIS XVI a sought-after collector's piece.

The watch has a 43 mm stainless steel case with a thickness of approximately 12 mm. The band is made of stainless steel with a width of 22 mm and can be shortened as needed. The watch has a diamond-set dial, a scratch-resistant sapphire crystal and a Swiss Ronda 5030.D movement.

Water resistance: Yes - 5 ATM

Origin: Swiss made

Movement: Ronda 5030.D

Band: Stainless steel 316L

Band width: 22 mm

Glass type: Sapphire glass - scratch resistant

Weight: 175g More
Product code: 1081 Shipping and Payment
LOUIX XVI ARAMIS FROSTED - NEW DIAL



The Aramis Frosted collection has been expanded with two new models. The dial has a matte look that matches the case and bracelet. The new dials are finished in the colours of the case (gold and silver) and their colour goes from light in the middle to dark on the edges. The surface texture is grainy, similar to the case and bracelet. This creates an unusual matt effect on the dial as well.

FROSTED FINISH - CHALLENGE

Achieving the desired sparkling look was not easy. It required a complex process. The stainless steel has to be hammered out with a special diamond-tipped tool to create tiny depressions. The depth and number of dimples affects the final optical result. If the indentations are not deep enough or are too deep, the appearance will change and the desired gloss will not be achieved. Nevertheless, we have risen to the technical challenge. The result not only met our expectations, but exceeded them.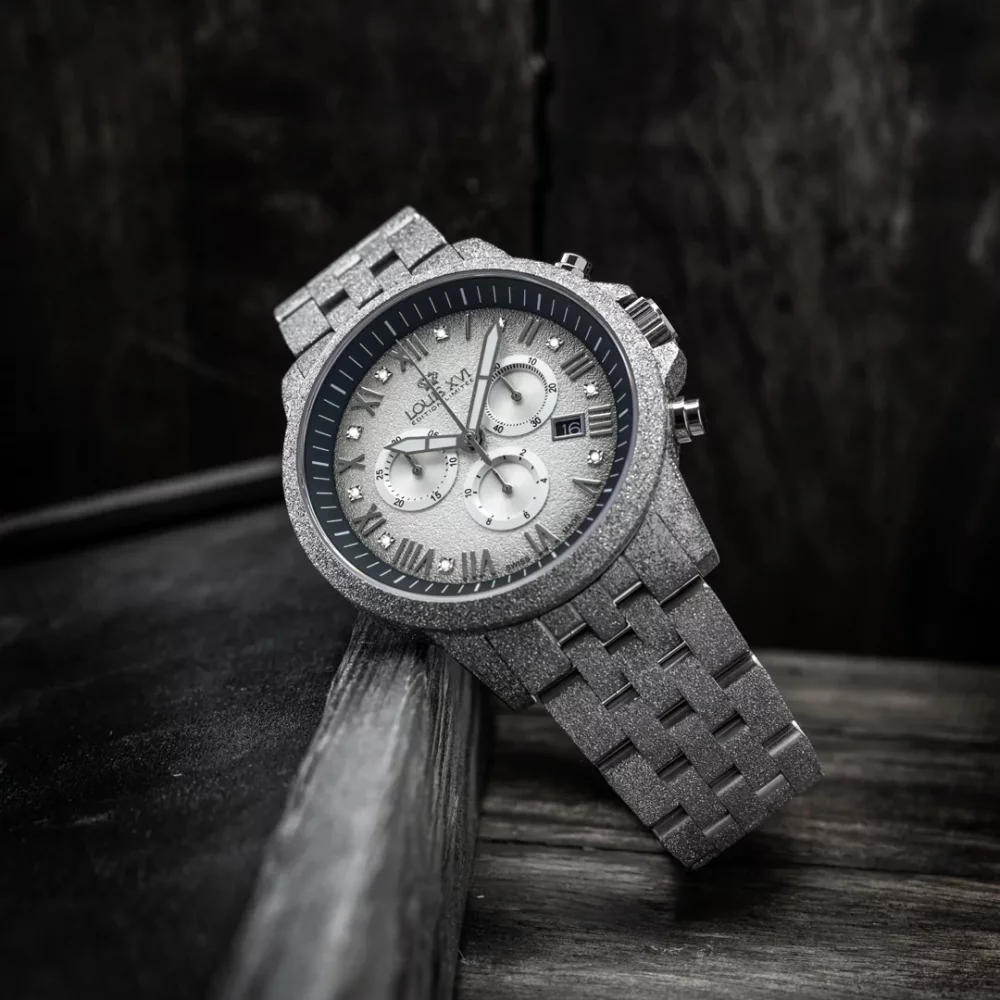 DIAMONDS ON THE DIAL

There are 10 octagonal diamonds on the dial of the Armis Frosted. An octagonal cut is a special type of cut in which the stone is machined to form eight edges. The carefully cut octagonal diamond achieves an exceptionally high brilliance. This is due to the fact that in the size range up to 0.02 carats, the larger facets develop an optimal effect.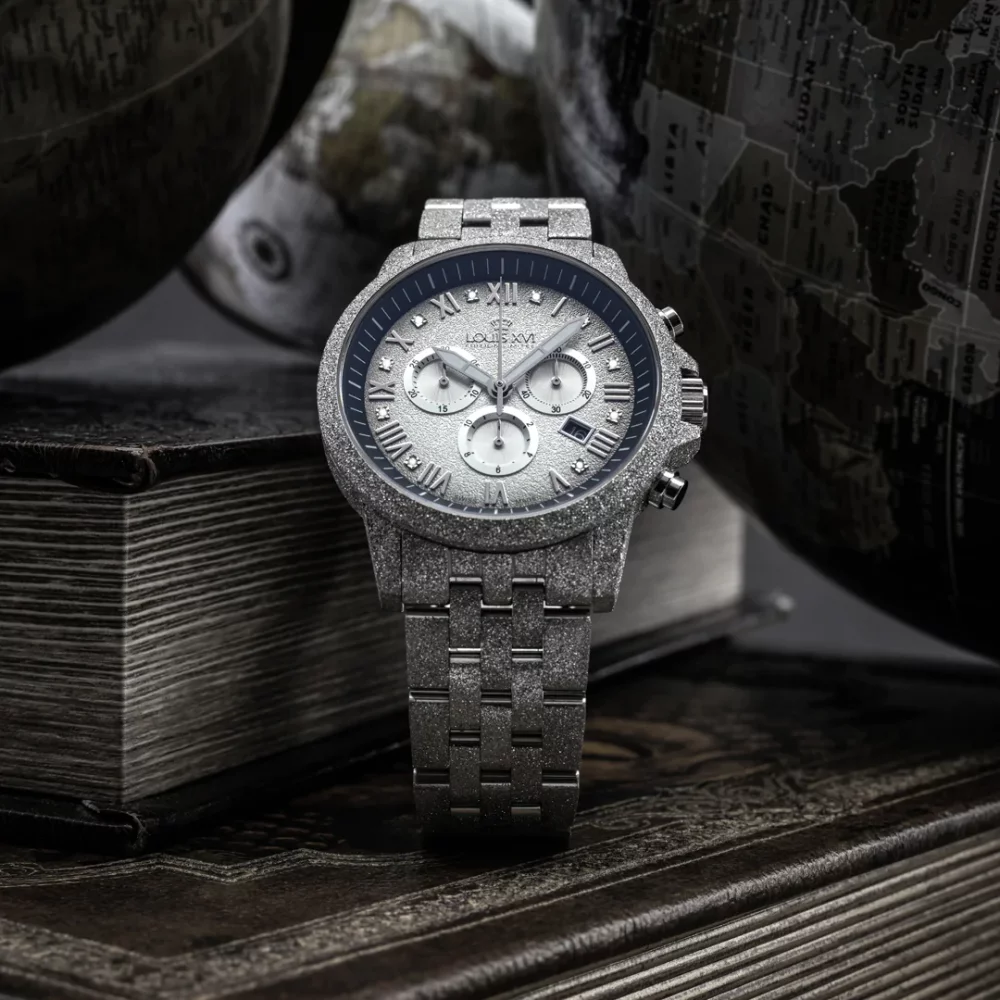 SWISS RONDA 5030.D

Inside the Aramis Frosted watch ticks the Swiss calibre 5030.D manufactured by Ronda. Ronda is one of the world's largest manufacturers of high-precision movements and has been a symbol of excellence and durability since 1946. In addition to the chronograph, the 5030.D movement offers Add & Split, date and small seconds functions. Particularly noteworthy is the extremely long battery life of 54 months - a value that is hard to match.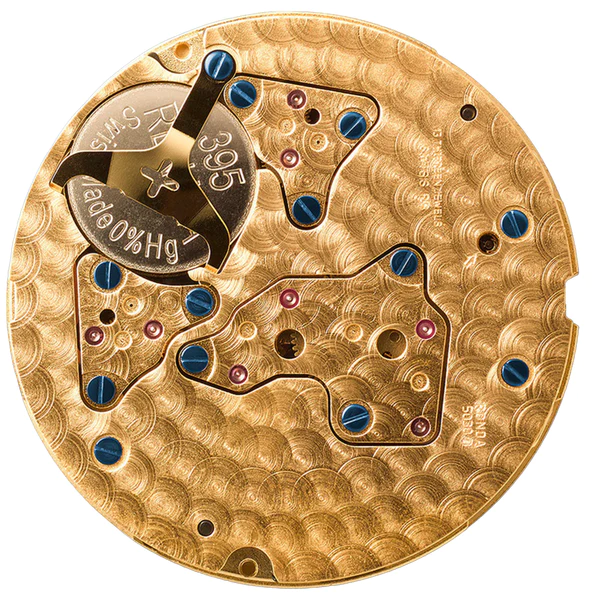 ADD function
The ADD function allows you to measure consecutive periods of time without having to reset the counters between two events. Each successive time is added to the previous one.

SPLIT-TIME function
The SPLIT-TIME function allows you to stop the hands to read the intermediate time, without interrupting the count. When the counter is restarted, the time "runs out" and the hands show the total elapsed time.